Connect with our Sacajawea PTA
Posted: | Updated: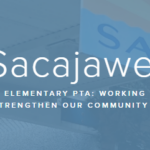 Promoting and Supporting Our Sacajawea Community
The mission of the Sacajawea PTA is to promote and support the education, community, and health of the students and families of Sacajawea Elementary. Our membership of over 150 parents and teachers volunteer their time and energy to support student enrichment programs, fundraising events, and classroom support.
Let's get connected!
For other questions, email our Co-chairs, Justin Pritchett and Karen Murphy via chair@sacpta.org