Virtual Kindergarten Tour Information
Posted: | Updated:
Sacajawea Elementary Welcomes Future Kindergarten Families
Our virtual tours were held on 1/31 and 2/7. Below is school information that was shared. Please reach out if we can answer any questions!
Contacts: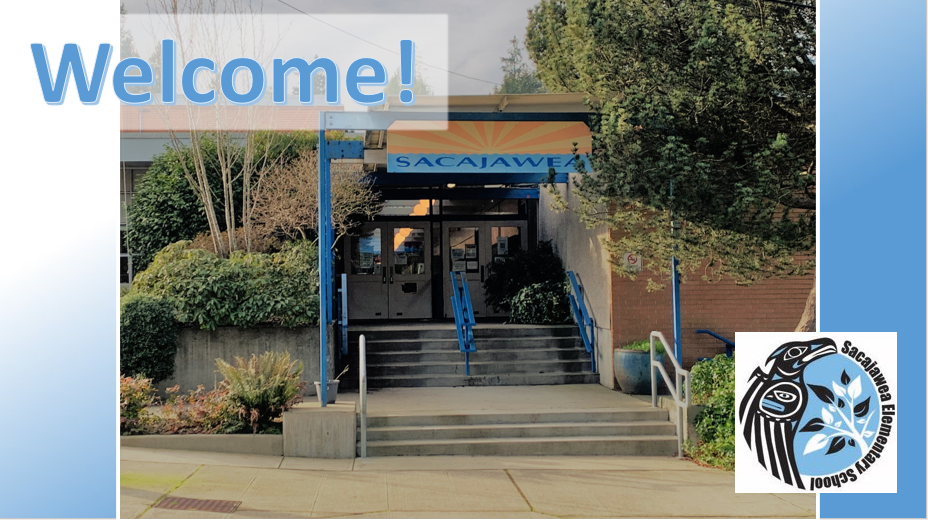 ---
Land Acknowledgement​
We at Sacajawea acknowledge that we live, study, and work on the traditional land of the first people of Seattle, the Duwamish People, and honor with gratitude the land itself and the Duwamish Tribe
---
Our Mission: ​
Teach every student with ​kindness, equity, and empathy
Our Vision:  ​
Educational Justice for All
---
Our Community
Monday Morning Assemblies
Reading Buddies
Continental Focus
Friday Music
Nests – Multigrade Learning Groups
Global Reading Challenge
Newsletter/Communications
Diversity and Inclusion
Staff and Parents Equity Teams
Strong and Active PTA
Special Events
Teddy Bear Picnic
Jump Start
Artist in Residence
Heritage Potluck
Race & Equity Events
Instrumental Music Concerts
Math & Science Fair
Literacy Night
Summer Learning Social
Arts Festival
Drama/School Play
Book Fair
Global Reading Challenge
Move-a-Thon
Family Nights
Field Day
Extra-Curricular Opportunities
Instrumental Music
After School Enrichment Classes

Sports
Language
Arts & Crafts
Science
Cooking
Dance

Drama/School Play
Girls on the Run
Sacajawea Eagles Ultimate
Our School
New upper playground asphalt and painting
K classrooms release to lower playground with climber, play areas, garden and stage
Library, Art Room, Gym, Stage, Cafeteria
Rebuild 2024 and beyond
Academics
ELA & Math
English Language Arts

Center for the Collaborative Classroom
Whole class, small group & indiviual
Listening, Speaking, Reading & Writing
Social Emotional Learning connection

Mathematics

Ready Math Curriculum
Math for Love supplement
Collaboration, games, problem solving
Science & Social Studies
Science

Amplify Curriculum
Phenomenon based learning
Students explore hands-on, collaborate, read, watch, draw, make conjectures & solve problems to learn scientific concepts

Social Studies

Since Time Immemorial Curriculum
Washington State Standards
Equity & Racism
History
Library
Students learn library & technology skills
Develop a love for reading
Currently revitalizing our library with new books, updating decor and accessibility
Using an equity lens to focus on acquiring books that represent all of our students, authors of color and diverse topics
Art & Health and Fitness
Visual Arts

Students learn arts concepts, skills, and appreciation through hands-on and visual art lessons

Health and Fitness

Students learn about the 5 components of fitness
Collaboration and teamwork
Health habits
Fitness activites and games
Social Emotional Learning
Positive Behavior Interventions and Supports – SHINE
In the Hall
Safe
Use walking feet
Walk one step at a time on the stairs
Hands only on stair railing
Helpful
Stay to the right
Keep body & objects to yourself
Inclusive
Voice level 1 – be aware that others are learning
Neighborly
Greet others with a smile
Open and close lockers quietly
Unpack/Pack up and go
Engaged
Follow adult directions
Go directly to your destination
RULER
Recognizing emotions in self and others
Understanding the causes and consequences of emotions
Labeling emotions accurately
Expressing emotions appropriately
Regulating emotions effectively
Who Rules? You Rule:
Your emotions
Your choices
Your solutions
Student Supports
Reading Specialist
UW Riverways & VOlunteer Tutors
Multilingual Department

Bilingual Instructional Assistant
Support for English Langauge learners

School Counselor
Special Education Services

Resource
Access
Distinct
Focus
Developmental Preschool
Occupational Therapy
Speech Therapy
Physical Therapy
A typical Kindergarten Day:
7:55 First Bell
8:00 Check in and Morning Circle Mood Meter ELA Block
9:00 Library on Thursday
9:45 Handwashing and Snack Transition
9:55 Recess
10:10 Math
11:00 Lunch/Recess
11:35 Science/Social Studies
12:15 Art/Health and Fitness
12:55 SEL (Social Emotional Learning)
1:25 Recess
1:40 Free Choice
2:15 Pack up
2:25 Dismissal
Room 1: Ms. Jackson
Room 5: Ms. Park
Room 4: Ms. Lauren & Instructional Assistants (IAs)
Sacajawea PTA – We are Sacajawea Proud!
Our Mission is to equitably enrich the educational experience for all Sacajawea students while support and building our community.
Together, our membership of over 100 parents and teachers volunteers to support student enrichment programs, advocate for our students, provide in-class support, and raise funds for programs.
Our favorite events each year include:

Move-a-thon
Book fair
Math & science fair
School dance
Arts fest
Heritage Potluck
Drama
Ice cream social
Working together to strengthen our community. Learn more at SacPTA.org
The Sacajawea Racial Equity Team
Supports the work of our parents, teachers, staff, and students to make Sacajawea an anti-racist, inclusive community where everyone is respected and welcomed.
Our Efforts:
School-wide Events
Community Support
Arts and Culture Committee
Classroom and Library Materials
PTA Board Work
Faculty Racial Equity Team Support
We need your help as part of the team! Contact us at equity@sacpta.org
El equipo de equidad racial de Sacajawea
Apoya el trabajo de nuestres m/padres, maestres, personal y estudiantes para hacer de Sacajawea una comunidad inclusivea y antirracista donde todes sean respetades y bienvenides.
Nuestros esfuerzos
Eventos escolares
Apoyo de la comunidad
El comite de arte y cultura
Materiales para el aula y la biblioteca
Trabajo de la PTA
Apoyo del equipo de equidad racial del profesorado
Necesitamos su ayuda como parte del equipo Contactenos en equity@sacpta.org
Supporting our Families and Community
Pack for Kids
Weekend snacks donated by University Food Bank

Supporting over twenty families with weekend snacks
Nearly 40 individual children supported each week

Coat Drive
Rent/Bill/Grocery Assistance
Diaper Assistance
Holiday Giving
Donations and Community Partners

Hunger Intervention
Right Now Needs Funding
Neighborhood churches
Windermere Foundation
Friday volunteers
Sacajawea Families (Sign Up Genius)
Volunteering at Sacajawea
Sacajawea thrives because of our wonderful volunteers and family participation
Benefits to getting involved:
Meet other families and staff
Make strong school community connections
Positive impact on students
Better attendance and grades
You feel good!
There are many ways to volunteer:
School support: classroom, lunchroom, library, tutors, packs for kids, event help, field trips
At home: website, newsletter, directory, room parents
Join Sacajawea PTA, Equity Team, various school or PTAactivity committees
Key enrollment dates​
Enrollment for new students (including kindergarten students) for 2022-23 school year began: January 3​
Open Enrollment for School Choice: February 1 – 28​
Non-Seattle Resident Enrollment: June 1 – August 31, 2022​
August 15-19, 2022 from 9am – 12noon​
PreK and K students start school Monday, September 12, 2022​