Mr. Ryan's Art Corner
Posted: | Updated: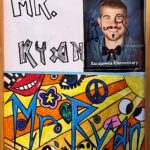 Hello, I'm Mr. Ryan the art teacher at Sacajawea. My philosophy on art education is simple, celebrate creativity at every stage of development! I believe in teaching a strong core foundation in all art and design principles, but more importantly I believe in finding ways to engage elementary age students in creative problem solving and storytelling.
I think that the key to a healthy and successful art program is making art skills attainable through age appropriate subject matter. I don't find that making your student replicate famous works of art on a regular basis builds an appreciation for creativity or artistic risk taking. I plan each lesson with your child in mind ( I also try to think about myself at their age).
Check out a showcase of student art from the year on our PTA website!